Template:Infobox song
"Get Happy" is a song composed by Harold Arlen, with lyrics written by Ted Koehler. It echoes themes of a Christian evangelical revivalist meeting song.
It was the first song they wrote together, and was introduced by Ruth Etting in The Nine-Fifteen Revue in 1930.[1]
In pop culture
Edit
Influenced by the Get Happy tradition, it is most associated with Judy Garland, who performed it in her last MGM film Summer Stock (1950). An instrumental, hot jazz arrangement of the song, performed by Abe Lyman's Brunswick Recording Orchestra, served as the original theme music for Warner Bros.' Merrie Melodies cartoons in 1932. Garland sang this song with Barbra Streisand in a medley that also included "Happy Days Are Here Again" on The Judy Garland Show.
The song lyrics incorporate the title phrase in the longer phrase "Come on, get happy", but it should not be confused with the Partridge Family theme song "C'mon Get Happy".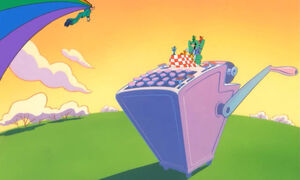 In An Extremely Goofy Movie, Max grew into a huge wrecked monster causing the song's ending to be extended with Goofy's dream ruined. He experiences some past times like his boss yelling "You're fired!", the van's horn honking, the unemployment lady and Pete while falling into the blank blue place with bronze horseshoes. He lands onto the ground with an explosion causing the background to turn white and Goofy being told to stay away from him. Then, his teacher tells him to put his pencil down, which led him into failing the exam and forgeting the date with Sylvia.
The variant appeared in the video of the movie. It was not added into the song on the movie's soundtrack.
Notable recordings
Edit
References
Edit
Ad blocker interference detected!
Wikia is a free-to-use site that makes money from advertising. We have a modified experience for viewers using ad blockers

Wikia is not accessible if you've made further modifications. Remove the custom ad blocker rule(s) and the page will load as expected.